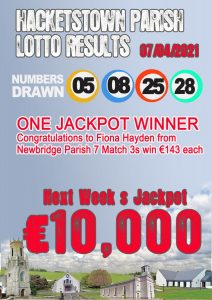 This week's Jackpot is €10,000.
Match 3s win or share one thousand euros.
The draw takes place 14th/04/2021.
Deadline for entry Tuesday 13th March at 9.30pm.
To play, simply choose 4 numbers from 1-32 inclusive, select the number of weeks you wish to play and choose your payment method. Once we receive payment, we will confirm the start date of your numbers in the draw.