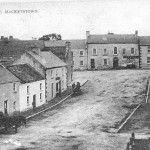 The village of Hacketstown dates from the early thirteenth century when an Anglo-Norman castle stood on what is now the site of the parish church, St. Brigid's. No trace now remains of that castle, or of the military barracks that occupied the site in the eighteenth century.
The layout of the village dates from the early 17th century when a Lancashire man named Watson took a fifty-year lease from the Earl of Ormonde and set about establishing a plantation of farmers and merchants of the Established Church.
The planters came under attack by the O'Byrnes during the 1641 Rebellion, and suffered a great deal through loss of property and even, in some cases, of life.
In 1798 Hacketstown was the scene of two battles. The first, on May 25th, was little more than a skirmish when the poorly armed United Irishmen attempting to take the village were easily driven off by the troops garrisoning the town.
The second battle, on June 25th, was a far more serious affair. Several thousand rebels, led by Garrett Byrne of Ballymanus, and including Michael Dwyer and his followers, tried to capture the military barracks in order to get the stores of firearms and ammunition that were kept there. The fighting lasted for nine hours and most of the houses in the village were destroyed when thatched roofs were set on fire to provide a smokescreen as the rebels attempted to capture the stone-built barracks. Several hundred rebels were killed and they failed to take the barracks although the military evacuated it and retreated to the safety of Tullow after the rebel forces had drawn off.
To view more historical pictures of Hacketstown Click Here.