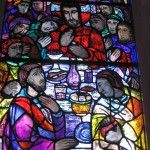 Celebrating the sacraments is at the core of our parish life. Our big moments in life are marked in a solemn way from womb to tomb.
Here we provide all the details for the celebration of the sacraments in our parish.
Funeral Arrangements
To arrange a funeral ceremony please contact Fr. Terence McGovern.
Baptism Arrangements
If you have a child to present for Baptism then please contact the Parish Office on 059 647 1257 to arrange a suitable time and date for the ceremony.